Yes, it's true! We're smashing out another great Gin & Sonic party! This time at THE Animus Distillery in Kyneton!!!
Join us for this one-off, exclusive event.
FREE ENTRY!
Your chance to try out the three signature small-batch, hand-crafted gins concocted by Kyneton's very own Animus Distillery.
Buses running from Castlemaine to Kyneton and return.
$20 will get you there and back and you'll get a complimentary gin & tonic on arrival.
Departures from Castlemaine Train station, where you'll be delivered right to the door at Animus Distillery on Piper Street in Kyneton.
Departure times:
From Castlemaine: 3pm & 6pm
From Kyneton: 9pm & 11pm
Bus tickets by pre-sale only.
Sales are limited, so get 'em while they're hot.
https://www.stickytickets.com.au/82979
-PLUS:
-Next door they'll be slinging pizzas for all of you gin and sonic lovers. (5:30pm-8:30pm BUT get in quick because this will only be until stocks last!)
-Other drinks also available. Woo!
-DJs spinning tunessss!!!
-All proceeds raised go to your favourite radio station 94.9 MAINfm!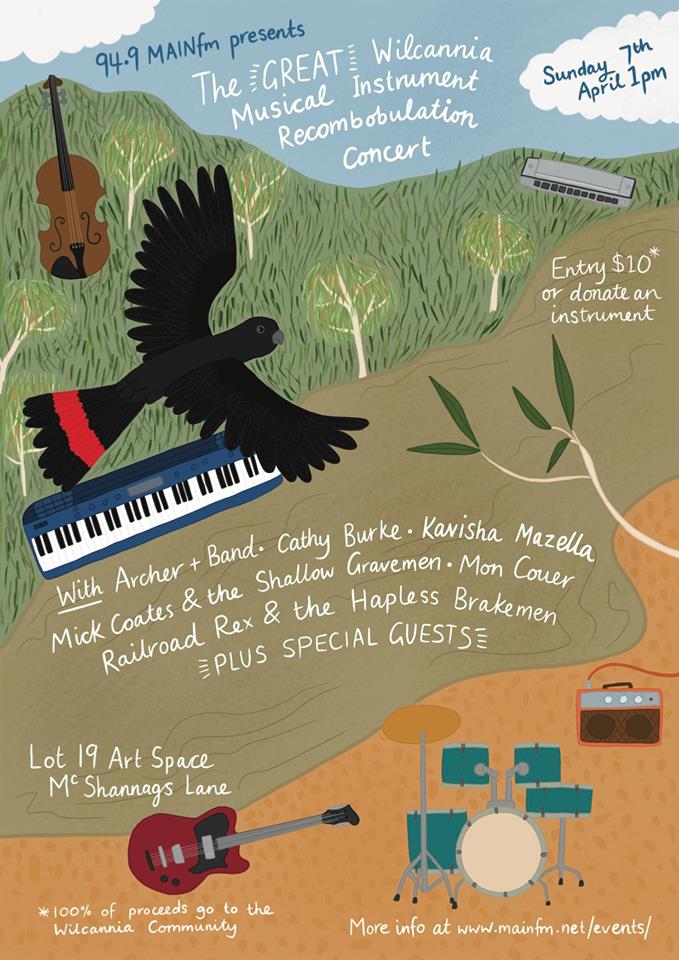 MAINfm presents: The Great Wilcannia Musical Instrument Recombobulation Concert!
Sunday 7th April 1pm-6pm.
Archer, Rex, and Zeb are heading to Wilcannia to run musical workshops, forge a relationship between Wilcannia River Radio & MAINfm, record local people and make a bloody great radio series: 'Adventures of the Heart'.
We need your help to make this happen! WE need your unused/no longer needed musical insstruments.
ENTRY: free with donated instrument, or $10
100% of proceeds go to the Wilcannia community.
Artists:
Archer + Band
Cathy Burke
Kavisha Mazzella
Mick Coates & the Shallow Gravediggers
Mon Coeur
Railroad Rex & the Hapless Brakemen
Kenny Jo Blake
Plus special guests
List of desired instruments:
electric guitars
electric bass
amplifiers
harmonicas
drums
violins
banjos
dobros
acoustic guitars
accordians
pianos/keys
etc
Wednesday 19 December
7pm start
@The Taproom – Shedshaker Brewing
9 Walker Street.

We're doing it again! Two rounds of trivia to choose panel members, reveal the special guests, then our own take on the Rockwiz format brings it home. There'll be music, prizes, fun and frivolity.  See you there!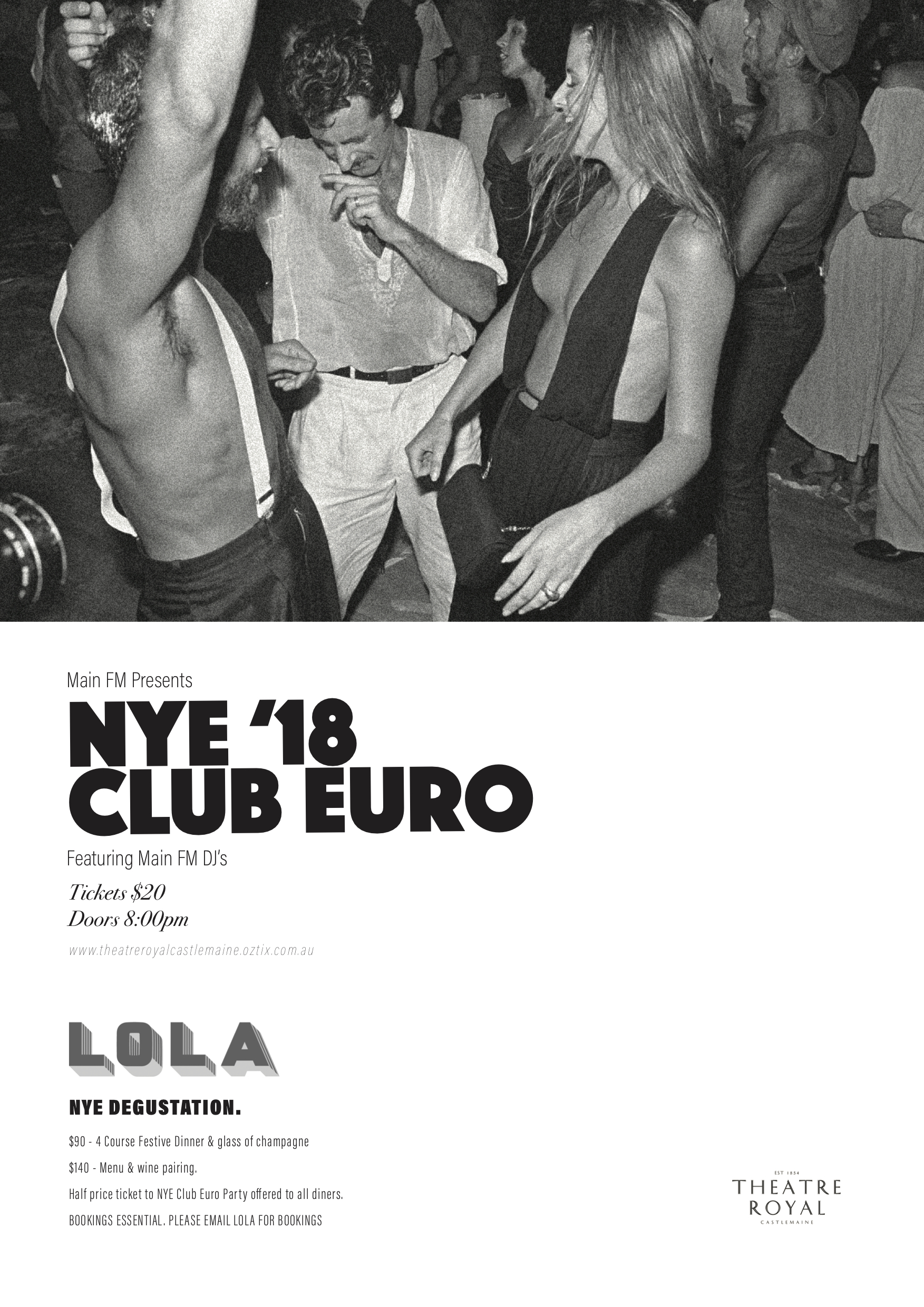 MainFM presents CLUB EURO: a NYE party at the Theatre Royal.
A hand-picked crew of some of MainFM's finest DJs will be bringing the party to this NYE. Enjoy fun drink specials, prizes, dance floor hits and a bit of pizzazz. The courtyard will be open and looking lovely, while the Theatre Royal bandroom will become a classique nightclub.
CLUB EURO: Think – a little bit Eurovison, a little bit glam, a little trashy, 1970s-1990s nightclub culture, from Manchester to Milan, Berlin to Barcelona. Slick back the hair, put on that eyeliner, dress up in party attire for a night of dancing and good times with the amazingly eclectic Castlemaine crowd. 
INSPIRATION: https://www.youtube.com/watch?v=4kHl4FoK1Ys&list=PLeSEmE8He96YQeEipXNnvzOFlL2nCW2i5
TICKETS: $25.50 – book now to avoid disappointment!
From 8pm -1am
www.theatreroyalcastlemaine.oztix.com
BISTRO LOLA will be offering special NYE DEGUSTATION:
$90 – 4 course festive dinner & glass of champagne
$140 – Menu & wine pairing
Half price ticket to NYE CLUB EURO PARTY offered to all diners.
BOOKINGS ESSENTIAL. Please email LOLA for bookings: www.bistrolola.com.au/contact