MAINfm presents Castlemaine's inaugural radio awards night…
THE ROGIES!
Saturday 7 December
Wesley Hill Hall
5:30pm for 7pm start

Come along & celebrate our presenters, and be sure to cast your vote in the following categories:
Chatterati Talk Award
The Rex Watts Music Award
New Kid on The Block Award
Fresh Award
Old Hand Radio Award
The Gold Rogie
Food trucks, bar, music from Stop That Mammoth & World Turtle World. Free Entry.
THANK YOU SUBSCRIBERS! MAINfm Radiothon 2019
Radiothon 2019 was a blast – we can't thank you enough, our loyal listeners, for your continued support. Til next year, stay tuned to 94.9 MAINfm – community radio rocks!
Massive thanks to all our 2019 prize donors:
Animus Distillery
The Art of Healing magazine
Bike Vault
Boomtown
Brooklyn Arts Hotel
Castlemaine Community House
Castlemaine Natural Health
Castlemaine Veterinary Clinic
Castlemaine Vintage Bazaar
Cliffords
Coffee Basics/Das Kaffee Haus
Cornerstore Merchants
Criterion or Railway Hotel
Diggers Store
DonKRC
Dulce Lunar @ Lot 19
Fish n Shells
Fryers Tea House
Good Life Careers
Gung Hoe Growers
Harcourt Valley Vineyards
Julia Chapman Design
Maine Second Hand Centre
Maine Shoes & Accessories
New Northern
Origini
Parsons Motor & Body
Penny Ryan Photography
Pud for All Seasons
Saint Florian Café
Shedshaker Brewing
Skin n Tonik
Sound Recordings
Stonemans
Super Hero Banh Mi
Tara Creative Centre – Taradale
Taradale Glamping
Theatre Royal
Wonderpants
Yoga Living Castlemaine with Eliza Terry
Yoga Reflections with Jane Mallick
Huge congratulations to the winners of our major prizes:
Angus Gratton – 2 nights at the Brooklyn Arts Hotel, Fitzroy
David Norris – 2 nights at the Diggers Store, Campbells Creek
Rohan Wightman – weekend glamping in Taradale
Lucy Young – overnight accommodation at the New Northern Arts Hotel, Castlemaine
Follow this link to subscribe:
http://mainfm.net/subscribe-to-main-fm/

Prices:
$35 waged/$25 concession/unwaged
$60 passionate
$10 under 12s and pets
$100 business
$60 community groups
So many reasons to subscribe. When you subscribe to MAINfm for a year you will receive the following perks:
The MAINfm subscriber card to receive discounts at our growing community of subscriber discounters around town
The super cool MAINfm bumper sticker for your car (designed by Julia Chapman)
Free or discounted entry to MAINfm affiliated events
Our bi-monthly newsletter featuring all the latest news and events
The warm and fuzzy feeling you get from keeping your community radio on air and being a valued member of the MAINfm family
Exclusive eligibility to win on-air giveaways and Radiothon prizes if you subscribe during Radiothon month
Businesses and Community Groups will also be acknowledged with their logo on the MAINfm website.
MAINfm's annual footy fundraiser…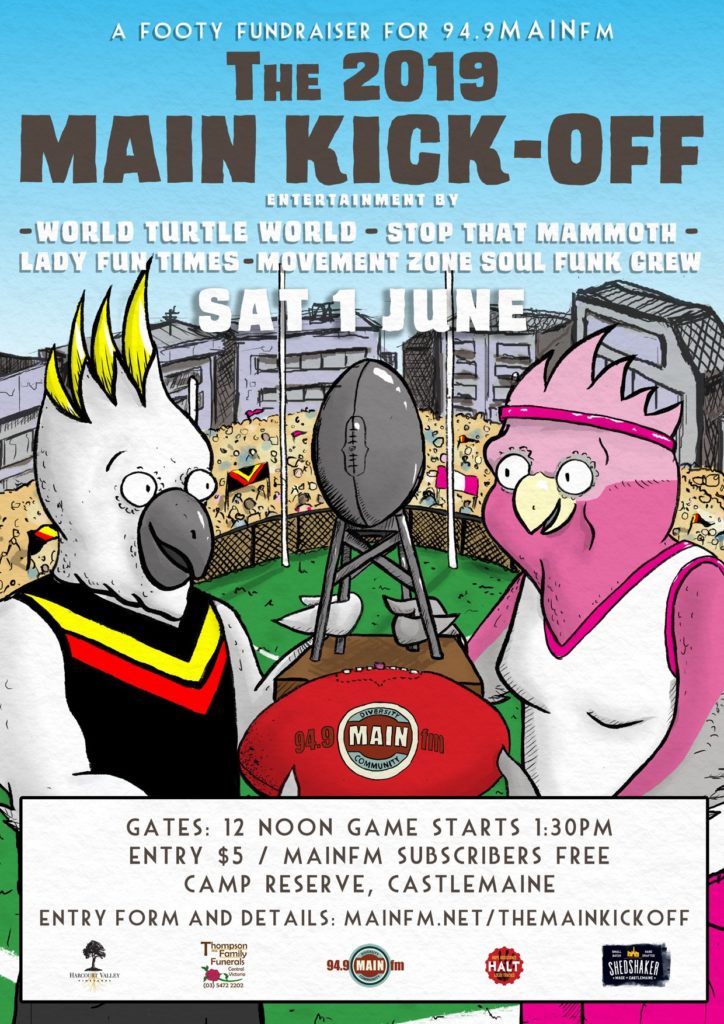 What better way to celebrate the biggest and best game of footy this side of the Great Dividing Range, than to come and catch some damned good live music at the local?!

$10 entry – all proceeds go to MAINfm.
Entry includes a free pot of Stone & Wood Pacific Ale or a house wine (Thanks Bridge Hotel!!!)

AND…
Whadda lineup:

DAVO – Castlemaine's biggest and best covers band! Sure to give you an uncontrollable urge to dance! Featuring members of: The OOga Boogas, Affordable Repayments, HR, & DEAD.

Gonzo – Thrash, stash, and bash at its finest. Formed in the sunny seaside town of Ocean Grove, Gonzo are a real life rock band that now resides in Melbourne. You can check out their last recording here: https://gonzogonzo.bandcamp.com/ (coincidentally recorded smack bang in the middle of Campbells Creek!)

Aplegate – Lo-fi progressive pop & psychedelic jam outs?! Yes please. Here's some of their live recordings for a bit of a taste: https://aplegate.bandcamp.com/ Formed in and loved by Castlemaine!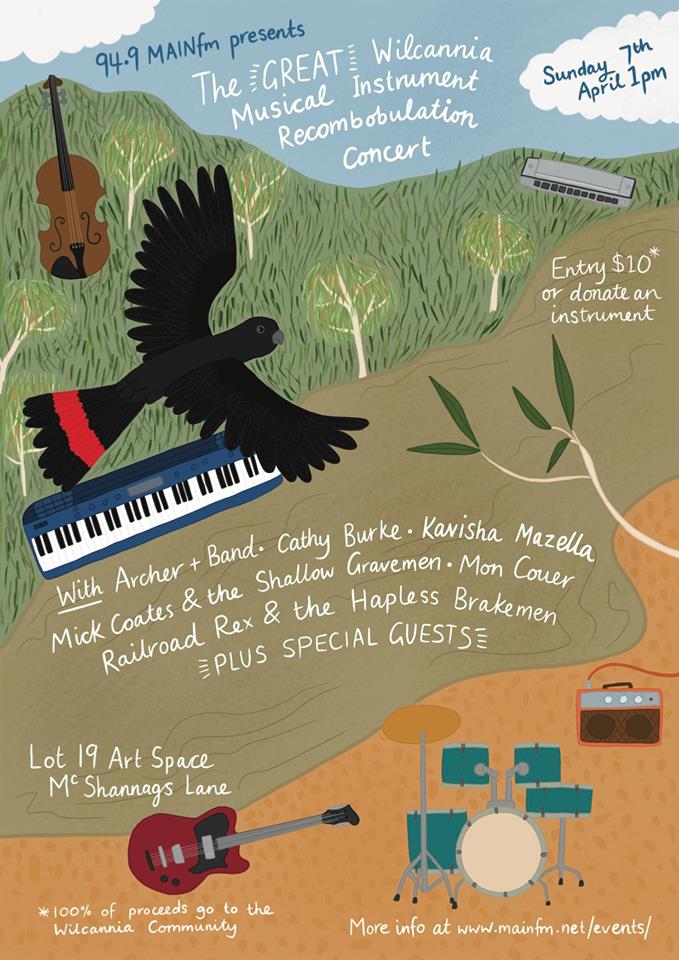 MAINfm presents: The Great Wilcannia Musical Instrument Recombobulation Concert!
Sunday 7th April 1pm-6pm.
Archer, Rex, and Zeb are heading to Wilcannia to run musical workshops, forge a relationship between Wilcannia River Radio & MAINfm, record local people and make a bloody great radio series: 'Adventures of the Heart'.
We need your help to make this happen! WE need your unused/no longer needed musical insstruments.
ENTRY: free with donated instrument, or $10
100% of proceeds go to the Wilcannia community.
Artists:
Archer + Band
Cathy Burke
Kavisha Mazzella
Mick Coates & the Shallow Gravediggers
Mon Coeur
Railroad Rex & the Hapless Brakemen
Kenny Jo Blake
Plus special guests
List of desired instruments:
electric guitars
electric bass
amplifiers
harmonicas
drums
violins
banjos
dobros
acoustic guitars
accordians
pianos/keys
etc