Join us for another brilliant quiz night at the Tap Room.
This time with your hosts: Scott Sanders and Genevieve Ward!
Thursday 19th April. 7pm, for a 7:30pm start.
$10 to enter.
Raffle. Spot prizes. And a $50 bar tab to be won!
All proceeds go to MAINfm.
For more info…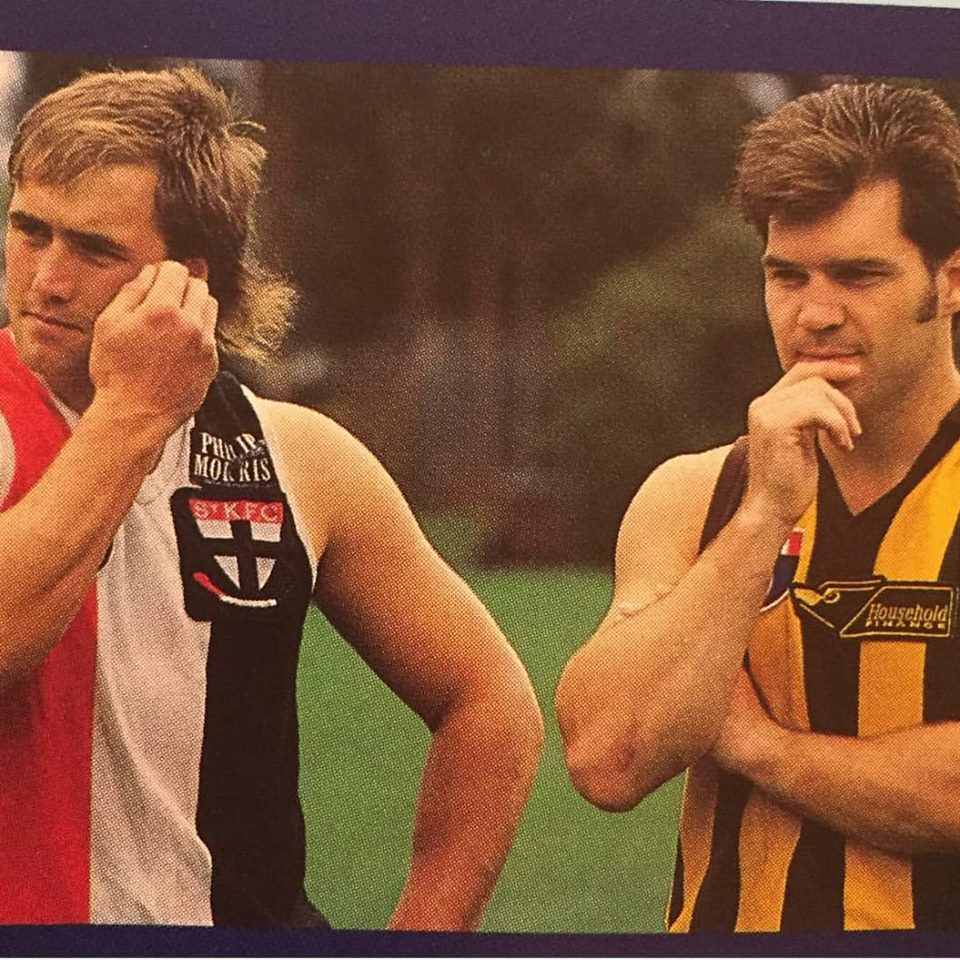 MAINfm Footy Tipping Comp
It's that time of year, time to start thinking about tips! Thanks to the charming and witty Maine Game presenters for putting together a fundraising tipping comp for MAINfm this year!

$10 to enter, all the coin goes to station, and there are some pretty great prizes up for grabs!
FIRST PRIZE: $100 bar tab at The Bridge Hotel and a 1 year subscription to MAINfm
SECOND PRIZE: 2nd Prize: Dinner for two, including a bottle of wine at The Bridge Hotel and a $30 gift voucher at Record Low
THIRD PRIZE: 2 bottles wine from Sutton Grange Winery
FOURTH Prize: Case of lager from The Taproom – Shedshaker Brewing
Hit the link in here to enter.
You don't need to pay straight away, but make sure you register before round 1! Don't forget to catch the opening game on the 22nd of March at The Bridge, and watch Richmond unfurl that premiership flag!
To keep up to date follow the Facebook Event Page.
The MAIN Kick-Off is a FUNdraiser for your local community radio station 94.9 MAINfm, working in collaboration with HALT.
Sign up today for a fun footy game with MAINfm presenters, local tradies, musicians, and anyone else with a case of the footy fever!
To prep you up for the big day you'll get up to 8 training sessions with an experienced footy coach where you can work on your fitness and your footy skills, while familiarising yourself with Aussie rules if you need a refresher!
But wait there's more…You'll get to be part of a fun family day out with entertainment from local musicians, and dance troupes. AND you'll know in your kind, kind heart that you did your bit to help out the best little station in the nation: MAINfm!
What is required?
Must be 16 years or older to enter and must be human
We recommend you have at least a medium level of fitness to participate and that you have at least a basic understanding of the rules.
You will need to attend at least 4 of the 8 training sessions as per the dates and times set out below.
You will need to be available and ready to play on Sunday 10th June, 12 noon until 5pmGo on…sign up…you know you want to…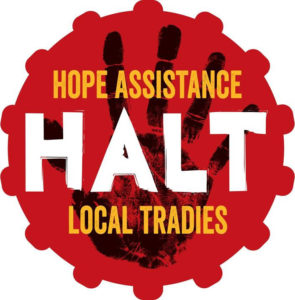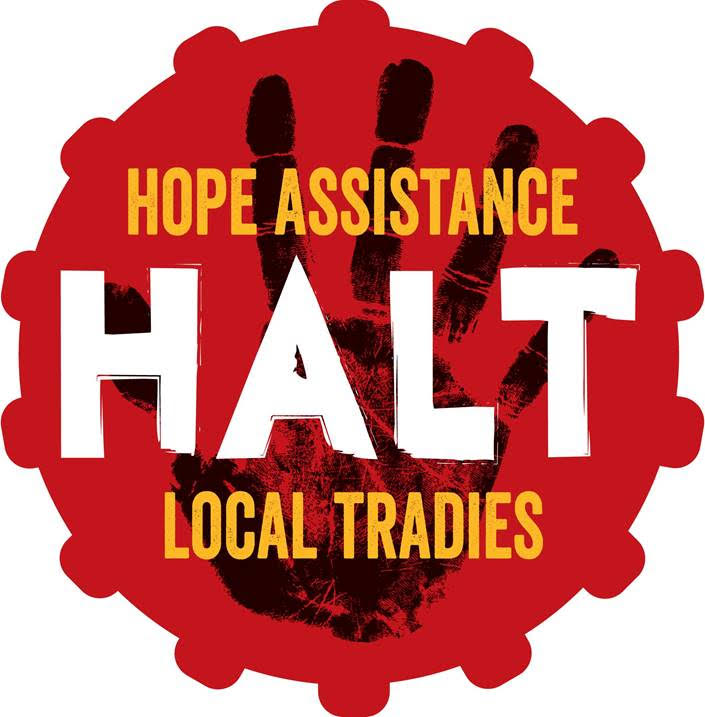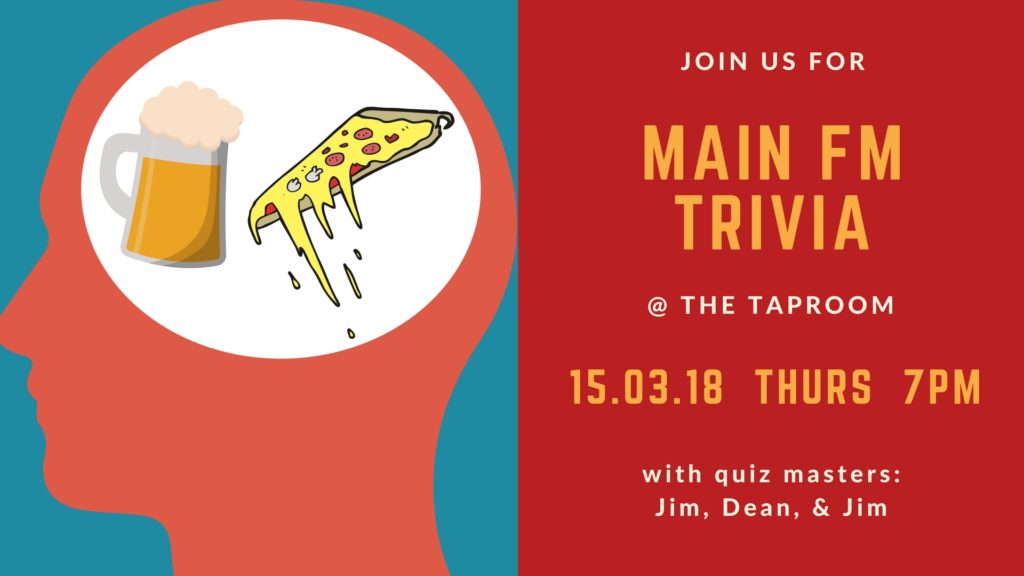 Join us for another brilliant quiz night at the Tap Room.  This time with your hosts, Jim, Jim, and Dean. Triple the fun!
Thursday 15th March. 7pm, for a 7:30pm start.
$10 to enter.
Raffle. Spot prizes. And a $50 bar tab to be won!
All proceeds go to MAINfm.
For more info…

7pm (for a 7.30 start) this coming Thursday February 15, 2018.
(Oscar and Georgia from BTD)
$10 entry, Pizza and beer at reasonable prices and the FUN …priceless!
All proceeds raised go to MAINfm.
The Tap Room
The Mill, Castlemaine
9 Walker St. Castlemaine
For more details: https://www.facebook.com/events/585484058462953/
STORM THE CASTLE FESTIVAL 2018
Friday 9th February, 8pm
The Bridge Hotel Castlemaine
DAY ONE: Kicking things off is a fundraiser for MAINfm 94.9
DOORS: 8pm
$10 tickets available at the door only
Over 18's.
LINE UP:
Davo (Castlemaine)
Debacle (25% castlemaine)
Naughty Naughty and The Good (Wollongong)
The Slit Throats (Melbourne)
For more details: https://www.facebook.com/events/284287485408841
DAY TWO: An all ages gig at the Theatre Royal on Saturday 10th February, 3pm.
More details: https://www.facebook.com/events/193996587815793/
Pimms On The Lawn @ The Castlemaine Lawn Tennis Club – Wheeler Street, Castlemaine
Saturday 27 Jan 2018, 6:30pm
Pimms, music, food and maybe even some tennis.
Watch the Australian Open women's singles final on the TV.
Proceeds raised go to MAINfm.
For event details: https://www.facebook.com/events/241199043079160/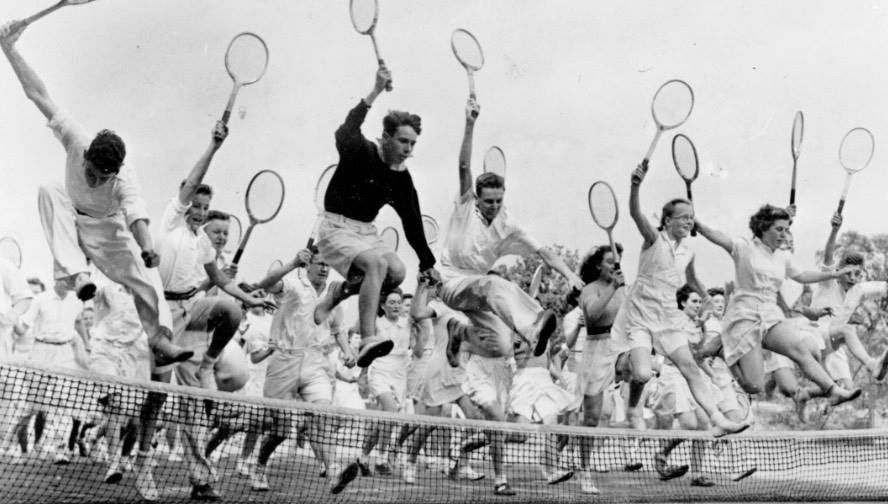 ?  Mainfm Christmas  ?

Thursday 21 December 6-7 pm Taproom (free drink – vouchers given out on the night)
From 7.30 pm, the last trivia for the year, MC Doug Falconer  (think Rockwiz)
I hope you can all come along and celebrate 2017 –
we got a grant for a Station Manager and obtained a permanent broadcasting licence (not bad!!)
STATION MANAGER for MAINfm.
MainFm is a community Radio Station based in Castlemaine. We were recently awarded Australia's most outstanding small station by the CBAA.
The position is a paid part time role (3 days per week) 6 Month Contract.
The station is seeking to recruit a person with experience in voluntary based community organisations.  Knowledge and experience in radio or the media is desirable but not essential.
Employment beyond the initial six months is subject to further funding.
Copies of the Position Description and the Information Pack are available from the secretary via email: alantaylorcastlemaine@gmail.com
Applications must be lodged with the secretary by the COB Friday, December 1, 2017.
Click here for a Position Description.  Station Mgr PD v2 Nov 2017
Thanks to everyone who has come along and answered some questions, eaten some yummy food and had a lot of FuN but the time has come and MAINfm is hosting our final Trivia Night for 2017.

7.30 pm, November 16 at the Taproom in the Mill precinct, Walker st.
There will be questions, a bar, fun, delicious pizzas and even more questions.
Mark it in your phone or diary today, get your friends and neighbours together and join us for a great night of entertainment.