Nice Day to go to the Theatre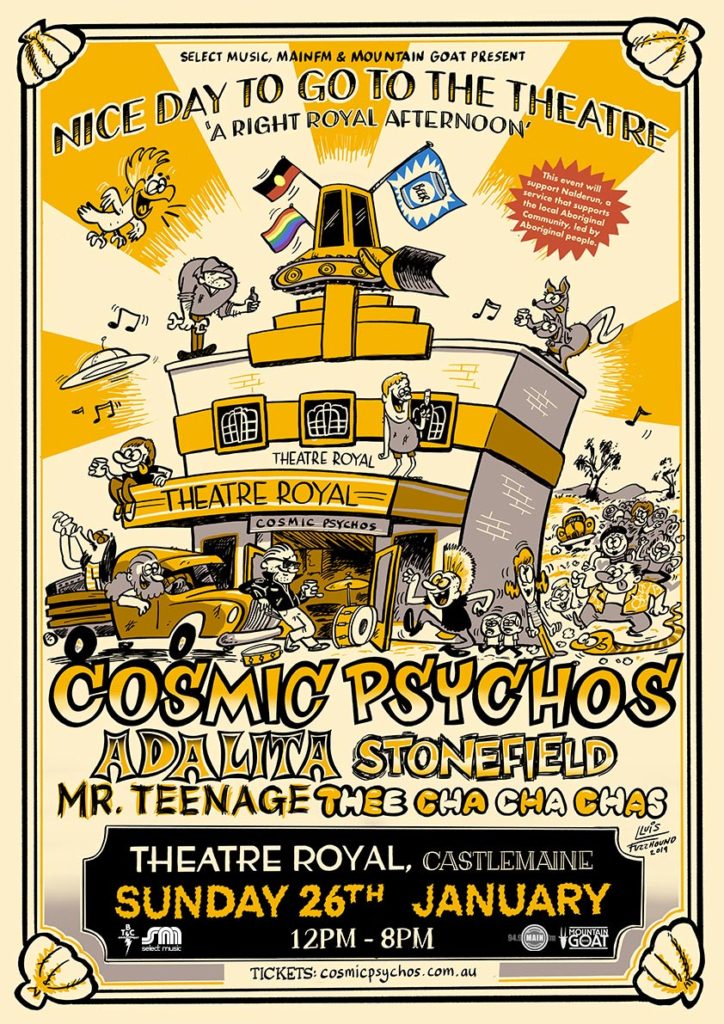 Castlemaine's Theatre Royal will explode with the sounds of legendary punk champions, the Cosmic Psychos when they hit the stage in a special one-day-only long weekend event also featuring Adalita, Stonefield, Mr Teenage and Thee Cha Cha Chas.
The event, co-presented by MAINfm, will support Nalderun, a service that supports the local aboriginal community, led by aboriginal people.
Ross Knight, John McKeering and Dean Muller of Cosmic Psychos will bring their legendary anthems back to their local hood, where the band was originated back in 1977 in Kyneton under the name Rancid Spam, which went on to become Spring Plains.
Renowned founding member of Magic Dirt, Adalita will perform alongside regional Victoria's sisters of rock, Stonefield, with the day kicking off with the garage rock sounds of Mr Teenage and the one woman, one man punk sensations of Thee Cha Cha Chas.
Nice Day To Go To The Theatre is on Sunday 26 January from 12–8pm at Theatre Royal Castlemaine. Tickets from theatreroyalcastlemaine.com.au
Nice Day To Go To The Theatre is proudly presented by Select Music, MAINfm and Mountain Goat.