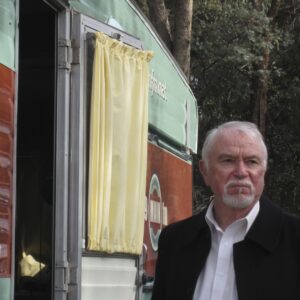 Family man married to Annie with two teenage boys living at home, and significant other contributions to the population explosion not living at home.
Secondary teacher for 30 years specialising in English, History, Politics, Debating/Public speaking, Drama. Occasionally also taught at Primary and Tertiary levels. In addition worked as an Electorate Officer, waiter, handyperson/slave.
Keen actor/performer with a long background in amateur/community theatre from Greek tragedy to Shakespeare to G B Shaw, Noel Coward and shameless melodrama/farce.
Enthusiastic home gardener.
Lover of books, films and theatre.
Handy cook who enjoys tasty food (Asian, Middle Eastern) and drinks mostly red wine.
Close follower of current events/politics: left-leaning and generally exasperated at the current state of things and lack of real vision or leadership, let alone the ability to communicate it clearly and directly without artifice. Detests weasel words and jargon.
Passionate traveller who has seen much of Australia (lived in the NT for around 20 years) and some of the world (also lived in Turkey for 2 years). Speaks one Aboriginal language and acquainted with several others. Gets by on rusty French and 'Tarzan' Turkish.
Oh, and a Collingwood supporter who doesn't care what you think about that.